Make Just One Change: Teach Students to Ask Their Own Questions (Harvard Education Press: 2011) makes two simple arguments: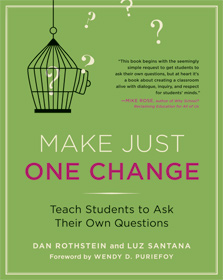 All students should and can learn to formulate their own questions
All educators can easily teach the skill as part of their regular practice
Make Just One Change not only makes the case for the importance of teaching students how to ask their own questions, it also provides a clear step-by-step process for teaching a sophisticated thinking skill to all learners. Its simplicity belies the significance of its approach for teaching students to actually think for themselves. No small accomplishment.
"As the title of this book indicates, Dan Rothstein and Luz Santana believe that education can be transformed if students, rather than teachers, assume responsibility for posing questions. This idea may sound simple, but it is both complex and radical: complex, in that formulating good, generative questions, and being prepared to work toward satisfactory answers, is hardly a simple undertaking; and radical, in the sense that an apparently easy move can bring about a Copernican revolution in the atmosphere of the classroom and the dynamics of learning. The authors modestly quote physicist Niels Bohr who once said, 'An expert is someone who has made all possible mistakes in a field and there are no more to be made.' In reading this powerful work, I was reminded of what Albert Einstein said, when he learned of Jean Piaget's pioneering questioning of young children: 'so simple only a genius could have thought of it.'"
– Howard Gardner, The John H. and Elisabeth A. Hobbs Professor of Cognition and Education, Harvard Graduate School of Education
"[The authors] provide…an inspiring vision of education at its best and an extraordinarily clear, low-tech, practical intellectual tool for turning that vision into reality."
– from the foreword by Wendy D. Puriefoy, president, Public Education Network
Join thousands of educators around the world who are reading the book, implementing the next day, discussing with colleagues the changes in students they observe, and organizing book clubs to share their ideas on how to spread the practice from classroom to classroom, from school to school and from community to community.  You can purchase the book online and directly from Harvard Education Press.
Also, see our article, Teaching Students to Ask Their Own Questions, in the Harvard Education Letter.