2nd Annual Summer Seminar for Educators on Teaching Students to Ask Their Own Questions
An In-Depth Exploration of the Question Formulation Technique
West Coast Summer Seminar:
Thursday and Friday July 11 – 12
9:00 a.m – 4:00 p.m.
To be held at the Wildwood School, Los Angeles, CA
1.0     CEUs
"I learned a whole new way to get students involved in their own thinking and learning process…[the workshop] renewed my energy by its implicit trust in my professional judgment and my students' capacity for thought."
– 2012 Summer Seminar Participant
Seminar Description
Educators from around the country and beyond observe that the Question Formulation Technique™ (QFT) is the simplest, most powerful strategy for helping their students learn to ask their own questions and learn how to ask better questions. When students know how to ask their own questions, they are more engaged, take greater ownership of their learning, and actually learn more.
The QFT is indeed simple and powerful, but using it well requires a small but significant shift in practice. Educators from primary grades all the way through higher education are gathering in Boston and Los Angeles this summer to explore in-depth how the small shift in practice and the QFT can be easily integrated into their core teaching and learning practices. The seminars in each location will be led by Dan Rothstein and Luz Santana, Co-Directors of the Right Question Institute and Co-authors of Make Just One Change: Teach Students to Ask Their Own Questions (Harvard Education Press: 2011). For more than twenty years, Dan and Luz have been developing innovative teaching and learning methods based on experience working with and learning from a wide range of people in many fields and communities.
The Right Question Institute's second annual Summer Seminar offers an exciting, hands-on learning environment with opportunities to learn with fellow educators from a wide range of communities, learning environments, schools, grade levels and subject areas. The seminar will also offer specific thematic streams and time for small group learning opportunities based on professional focus and interest.
The seminar will offer participants an opportunity to:
Deepen their understanding of the Question Formulation Technique™ (QFT™).
Explore the shift in practice that takes place when students are learning to ask their own questions
Analyze examples of effective use of the QFT in classrooms around the country
Prepare to integrate the QFT into their teaching practices
Learn to support colleagues and promote school and district-wide efforts to develop students' ability to ask better questions.
There will be workshop strands for educators working in primary grades, middle school, high school and higher education.
How Much:
$360 for individuals and $335 for groups of four or more from the same school or institution.
Seminar Fee Includes:
Registration
CEU Credit
Daily continental breakfast and afternoon refreshments
Seminar materials
A signed copy of

Make Just One Change: Teach Students to Ask Their Own Questions

(Harvard Education Press: 2011)
"Well-organized and focused, very rich, an excellent use of my summer time… I will leave reinvigorated and inspired."
"[I learned] a clear method that shifts accountability as well as the actual onus of learning onto the student in a valid, authentic way… The people were so thoughtful, warm, engaging and challenging."
"The seminar has made me feel like I'm part of a bigger movement to make schools more student-centered and democratic. I loved so many things – the collaboration, the resources, the people, the facilitators!"
"I thoroughly enjoyed how engaging this seminar was this week. It was great to meet new people from all over the country and hear their stories. I enjoyed collaborating with other professionals around a common goal."
– 2012 Summer Seminar Participants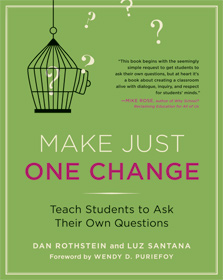 The seminar builds upon the ideas and practices outlined in Make Just One Change: Teach Students to Ask Their Own Questions, Cambridge, MA: Harvard Education Press and materials available on the Right Question Educator Network.
"[Make Just One Change: Teach Students to Ask Their Own Questions] begins with the seemingly simple request to get students to ask their own questions, but at heart it's a book about creating a classroom alive with dialogue, inquiry, and respect for students' minds."
–Mike Rose, author of Why School? Reclaiming Education for All of Us